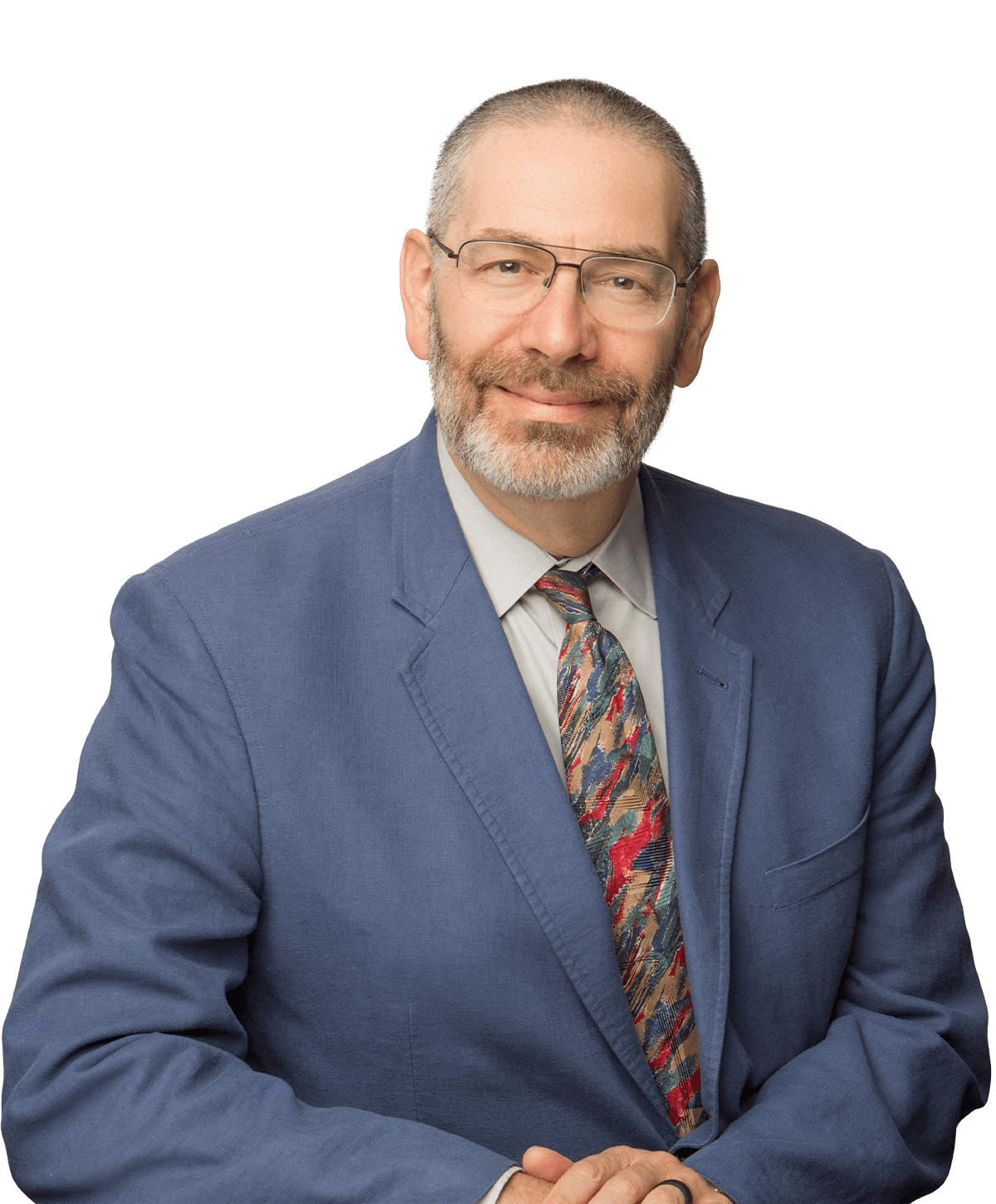 Peter C.
Schechter
Partner | U.S. Patent Attorney and Attorney at Law
Peter Schechter's practice includes intellectual property litigation in all federal courts, Inter Partes Review and post-grant review patent challenges in the Patent Trial & Appeal Board, all aspects of intellectual property counseling, domestic patent reissue and reexamination proceedings, due diligence reviews, and management of corporate transactions involving IP across the spectrum of technologies other than the chemical arts and life sciences.
---
Peter C. Schechter has represented U.S. and foreign clients in complex IP litigation, transactional, and Patent Office matters for more than 35 years. While he has represented Fortune 500 on occasion throughout his career, Mr. Schechter particularly enjoys his frequent representation of SMEs who often have no significant in-house IP legal capabilities, helping those clients formulate and execute practical, cost-effective, and efficient IP strategies within often limited resource and budget constraints. As a graduate engineer having earned his B.S. Degree in Ocean Engineering at the Massachusetts Institute of Technology, he has served clients in nearly every scientific, technical, and engineering field of endeavor. Mr. Schechter is admitted to practice law in the States of Texas and New York, in the United States Supreme Court, in numerous U.S. District Courts, and in the U.S. Patent and Trademark Office, being a Registered Patent Attorney for 30 years.
Admissions
State Bar of New York
U.S. Court of Appeals for the Federal Circuit
State Bar of Texas
United States Patent and Trademark Office
United States Court of Appeals for the Fifth Circuit
U.S. Supreme Court
Numerous U.S. District Courts including:

Southern District of New York
Southern District of Texas
Eastern and Northern Districts of Texas
Eastern and Western Districts of Michigan
District of Colorado
Eastern District of Wisconsin
PROFESSIONAL HONORS
"Top Lawyer," H Texas magazine (2017-present)
"New York Super Lawyers," Thomson Reuters, (2007, 2008, 2010 and 2012)
"2003 Guide To The World's Leading Patent Law Experts," Euromoney
PROFESSIONAL ACTIVITIES AND MEMBERSHIPS
American Intellectual Property Law Association
AIPPI-US Division of AIPLA (2014-16 Vice Chair)
AIPPI (Membership Committee)
Houston Intellectual Property Law Association
Boston College Law School, J.D., 1984
Massachusetts Institute of Technology, B.S., Ocean Engineering, 1980
RELATED ARTICLES
SELECTED PUBLICATIONS
"Cuozzo: Long Live IPRs," co-author, Fall 2016 edition (Vol. 25, No. 2) of Bright Ideas, the quarterly publication of the Intellectual Property Law Section of the New York State Bar Association (September 2016)
"Inter Partes Review in the Patent Trial & Appeal Board: A Top Ten List," Bright Ideas, Newsletter of New York State Bar Association Intellectual Property Law Section (Spring/Summer 2014)
"Throwing Trolls Off The Bridge," guest editorial, Patently-O internet blog (March 2013)
"U.S. Court of Appeals for the Federal Circuit Adds 'Grievous Unreliability' to 'Hundreds of Thousands' of Patents," author, Bloomberg BNA's Patent, Trademark and Copyright Journal, 84 PTCH 1040 (October 19, 2012)
"Cutting the Costs of Patent Litigation," New York Law Journal, June 11, 2012
"Post-Grant Challenges," co-author, PLI: Fundamentals of Patent Prosecution 2012 (May, 2012)
"Putting the Squeeze on False Patent Marking Suits," co-author, New York Law Journal, May 23, 2011
"Bilski decision maintains patent eligibility," co-author, Mass High Tech (July 2010)
"Still at risk regardless of Bilski's outcome," author, Intellectual Property Magazine (June 2010)
"Slicing, Dicing Patent Rights in Bankruptcy? Not So Fast!," co-author, New York Law Journal, Vol. 238, No. 113 (December 2007)
"How Many Patent Lawyers Does It Take To..?," Intellectual Property Today (June 2007)
"Curtailment of Patent Claim Scope Continues," lead author, IP Value 2007: Building and Enforcing Intellectual Property Value (December 2006)
"Patent Law Article 35: A New Obstacle To Japan's Competitiveness In Creative Engineering," Chizai Kanri (Intellectual Property Management, the monthly journal of Japan Intellectual Property Association) (May 2004)
"Overview of IP Management at Large American Corporations," Chizai Kanri (Intellectual Property Management, the monthly journal of Japan Intellectual Property Association) (March 2004)
"Inventor Compensation in the United States," Hatsumei (Invention), Vol. 99, p. 84 (October 2002)
"Is Patent Law Predictability A Thing Of The Past?," The Metropolitan Corporate Counsel (June 2001)
SELECTED PRESENTATIONS
"Patent Licensors Beware: A Challenge Clause Does Not Bar Challenge Before the PTAB," Speaker, 32nd Annual Joint Patent Practice Seminar, New York, New York (April 2016)
"Inter Partes Review in the Real World," Speaker, CLE program for in-house counsel, Houston, Texas (April 2014)
Bloomberg Law Radio, interviewed by Hosts June Grasso and Mark Mills about the U.S. Supreme Court's consideration of Alice Corp. case regarding patent-eligibility of computer-implemented processes (April 2014)
"Is Inter Partes Review Becoming 'Standard Operating Procedure' for Defendants?," New York State Bar Association, Intellectual Property Law Section, 2014 Annual Meeting, New York, New York (January 2014)
"Red Skies on the Horizon — Tracking Developments of Covered Business Method Proceedings and Preparing for the Era of the Post-Grant Review," American Conference Institute, New York, New York (January 2014)
"The Post-AIA Grace Period: Will It Work, and Is It Worth the Cost?," 2013 AIPLA Annual Meeting, Washington DC (October 2013)
IBC Intellectual Property Law Summer School 2012, Lecturer, Downing College, Cambridge, England (August 2012)
"The New Patent Law: What Should Management Be Doing Now?," Panelist, NY Technology Council Event (February 2012)
"Acquiring and Selling Off IP," Speaker, PLI's IP Issues in Business Transactions, New York, New York (January 2010, May 2011, January 2012)
"Patenting Methods of Medical Treatment in the United States," Speaker, AIPPI Forum & ExCo 2011, Hyderabad, India (October 2011)
Fu Jen International Academic Symposium on Patent Litigation and Competition Law & International Mock Trial, Presenter, New Taipei city, Taiwan R.O.C. (April 2011)
"The Economics of US Intellectual Property Litigation," Speaker, EAPD Breakfast Seminar, London, England (December 2010)
"What IP Lawyers Need to Know About Idea-Submission Litigation – Understanding the Latest Legal Developments and What They Mean for Your Clients," Speaker, ExecSense Webinars (July 2010)
"Special Issues Related to Electronic Documents," Speaker, Handling Intellectual Property Issues in Business Transactions 2009, New York, New York (January 2009)
"Ethical Problems Abated by Federal Circuit's Elimination of the Duty of Care in In re Seagate Technology, L.L.C.," Speaker, New York Intellectual Property Law Association's 24th Annual Joint Patent Practice Seminar, New York, New York (April 2008)
"IP Lawyers React to Bilski's Long-Awaited Arrival," quotes, Law360 (June 2010)
"Ethical Considerations for Patent Prosecutors and Patent Litigators," Presenter, Carolina Patent, Trademark & Copyright Law Association's (CPTCLA) Fall Meeting, Hilton Head Island, South Carolina (September 2007)
"IP Ownership Risks Abroad," Presenter/Panelist, American Bar Association 2006 Summer IPL Conference (June 2006)